Quote Board
The Quote Board module displays inline information about selected securities, options, and futures.

1. Accessing the Quote Board
From the Main Window:
Select Modules
Select Quote Board
2. Adding Symbols to the Quote Board
There are several ways to add symbols to the quote board.
2.1 Using the Symbol Field
The Symbol field is located in the top left of the Quote Board.
Left-click in the Symbol field
Enter a symbol
If you don't know what the symbol is, you can use Security Search by clicking on the magnifying glass symbol.
2.3 Drag and Drop from Option Chain to Quote Board
Individual options from the Option Chain can be added to the Quote Board by dragging the call or put from the Option Chain to the Quote Board.

---
3. Opening Order Tickets from the Quote Board
Right-click on the symbol in the Quote Board
Select one of the ticket options

Open XXX in Order Ticket
Open XXX in Depth Ticket

---
4. Adding Columns to the Quote Board
Right-click on a column header
Select Column Chooser from the menu that pops up
Drag and drop selected column into main QB column row

(ensure you see the up/down arrows appear, this indicates you can place that column within that specific portion fo the Quote Board)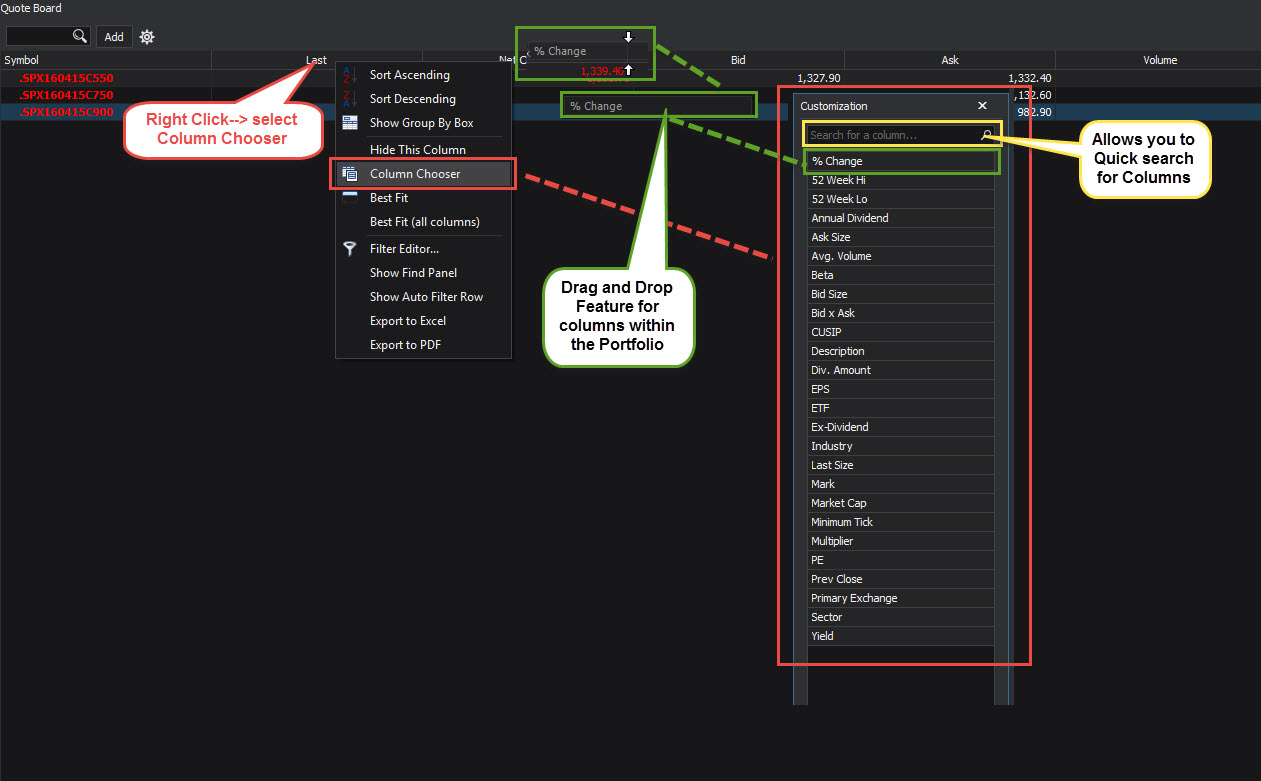 ---
5. Saving and Opening the Quote Board Layouts
5.1 Saving a QB layout
1.Select the Gear Icon
2.Select "Save Current as"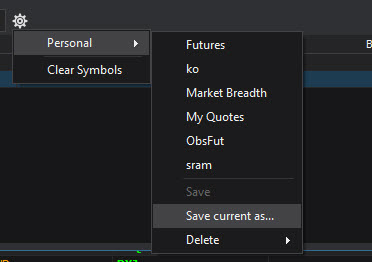 5.2 Entering custom Name for Quote Board layouts
New window will appear that allows you to custom name your layout.
Select Save

5.3 Opening custom Saved layouts
Select gear ICON
select personal
You will now see a dropdown menu that shows the saved Quote Boards you have created.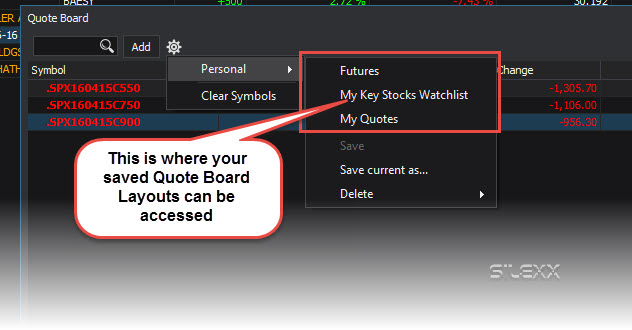 Remember you can also access your saved quote board layout files through the help menu folders feature as well.